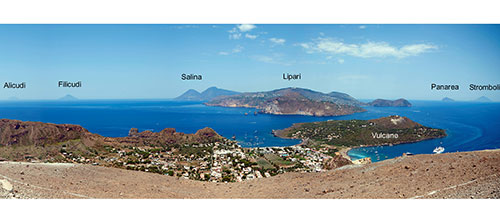 Lipari – In Lipari, the White beach is famous for the prevalence of the white color, due to the pumice deposits coming from a near quarry, which was very active in the past. Its waters are crystal clear and blue and become very warm during summer.
Vulcano – The Vulcano black beach has a different environment. The sand color recalls its volcanic origins and the transparent sea water mirrors to this intense black plain.
Panarea – In Panarea the Cala Junco beach is definitely worth visiting; it is isolated by rock formations that create a natural pool. The bay is rich in plant life and the water takes on its colors. The Cala degli Zimmari and Calcara Beach are well known to and they are visited for its fumaroles.
Salina – The Pollara beach is located on the northwest coast of the island of Salina, which became famous thanks to the Troisi's movie "Il Postino" (The Postman); it is part of an ancient crater as shown by the dark color of the sand and gravel. The beaches of Rinella are also very impressive.
Stromboli – In Stromboli, the Forgia Vecchia is a volcanic beach that guarantees calm and tranquility to those who are looking for a relaxing day. Nearby, you can visit beautiful bays.
Filicudi – The Capo Graziano beach in Filicudi features a long sunny coastline and eastward, between the rocks, there are several small coves you can visit by boat.
Alicudi – The Alicudi Porto beach is not very wide, but fishermen's boats and colorful houses in the surroundings create a vivid painting.