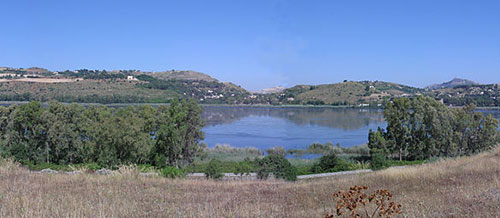 The Pergusa Lake is currently the only natural lake in Sicily and is located a few kilometers from Enna.
It has a tectonic origin and a modest size (402.5 hectares), but it is of great importance, for its geology, wildlife and culture and that's why in 1995 the first Special Nature Reserve of Sicily was established there; moreover, according to the Directive "Habitat" it is a Site of Community Importance (SIC).
One feature of the lake is the change in color of the water, which becomes red; it is a peculiar event that periodically happens in the lake and is due to the features of the water and the activity triggered by some bacteria that live there. Pergusa Lake for its location is the ideal habitat for the stopover during the migration of birds from Europe to Africa and vice versa.