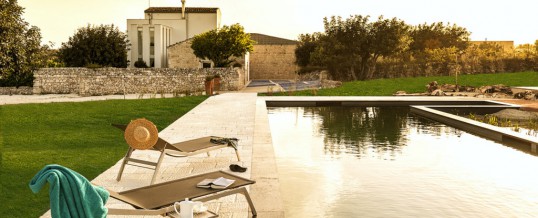 Contrada Scorrione S. Rosalia, Modica RG
Tel. +39 0932 779014
balartehotel@gmail.com info@balarte.com – www.balartehotel.com/
Balarte Hotel is a "residual space". Located at the edges of the town, among carob trees, cactus and citrus trees in the countryside of Modica. The hotel features furniture, photographs, paintings, sculptures made by young artists. It has 7 rooms, each with a different style, showing an artwork, a different perspective, an opportunity of expression and contemplation. The hotel has also a pool and it offers a breakfast with local seasonal products.
Accessibility:
Accessible rooms: 2 rooms wide enough for a wheelchair (even the bathroom). The toilet features an easily accessible functioning alarm. Rooms have sound and vibrating phone rings and visual signs and rings for the doorbells.
Restaurant: high tables suitable to wheelchairs
Special menus: no. Special cards are provided to be filled in by customers with specific dietary requirements.
Stairs: with handrails
Lift: no
Common areas: there are many seats in the hall and no obstacles.
Allergies: Polyester hypoallergenic linens and duvets, pillows and mattresses made of synthetic material.
DOWNLOAD THE ACCOMODATION'S FILE