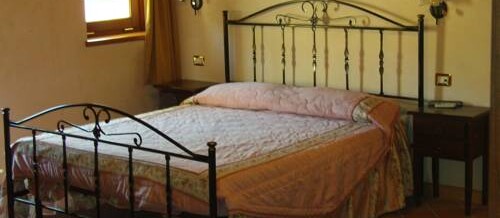 Via Brunaccini, 15 – 94015 Piazza Armerina (EN)
Tel.(+39) 0935 686511 – 0935 89461 – Mobile: (+39) 334 2645834
k.caruso@alice.it – http://www.marchesidiroccabiancahotel.it
The dimora dei Marchesi di Roccabianca is a bed and breakfast within an ancient and luxury palace of the 17thcentury. It is located in the city centre of Piazza Armerina, the perfect starting point to visit the main sites and monuments of Eastern Sicily. The hotel has 10 rooms, equipped with heating/air conditioning, TV LCD and PayTV, telephone. The breakfast buffet is served within 2 wide rooms and proposes a rich selection of Sicilian traditional pastries. There is also a reading room and an internet point.
Accessibility:
Accessible rooms:one room, with visual signs and rings for the doorbells.
Stairs:with handrails.
Lift:yes
Common areas:there are many seats in the halls and no obstacles.
Breakfast room:tables are high enough for wheelchairs.
Coffee bar:the counter is accessible to wheelchairs.
Special Menus:no. Special cards are provided to be filled in by customers with specific dietary requirements.
DOWNLOAD THE ACCOMODATION'S FILE