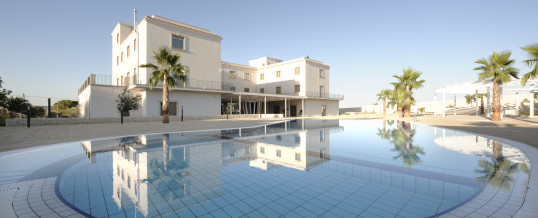 Via Pietre Nere Cava Ispica 142 – 97015 Modica (RG)
Tel +39.0932.753051
info@pietrenereresort.it – http://www.pietrenereresort.it/
Pietre Nere Resort is a hotel with a modern design, 28 rooms and 2 junior suites, built within an ancient renovated country house. Rooms have independent air conditioning, LCD TV, pay TV, safe, minibar and free Wi-Fi. The property features a pool with whirlpool and wide outdoor areas with view on the landscape. Pietre Nere Resort has an exclusive restaurant, where guests can taste local dishes.
Accessibility:
Accessible rooms: 2 rooms wide enough for a wheelchair (even the bathroom). The bathroom has an easily accessible functioning alarm. Rooms have sound and vibrating phone rings, visual and vibrating alarm clock, TV with teletext, infrared system for TV and radio.
Lift: 2 lifts with a smooth floor at the arrival and buttons in relief and Braille; the lifts are well functioning and well-lighted.
Restaurant: high tables suitable to wheelchairs. The coffee bar counter can be reached by a person on a wheelchair.
Special menus: menus for people with celiac disorder. Special cards are provided to be filled in by customers with specific dietary requirements.
Common areas: there are many seats in the hall and no obstacles.
Info Desk on accessibility: yes
Pool: easily accessible
Allergies: Polyester hypoallergenic linens and duvets, pillows and mattresses made of synthetic material. Wool blankets are used.
DOWNLOAD THE ACCOMODATION'S FILE