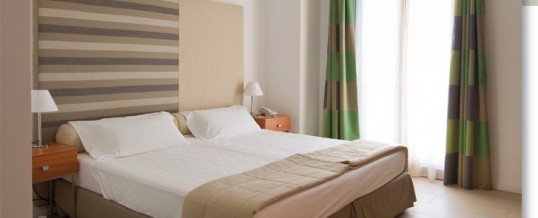 S.P.Ragusa/M.di Ragusa – Km 5,7
Tel. 0932/668521 Mobile +39 340/1737623
info@poggiodelsoleresort.it – http://www.poggiodelsoleresort.it/it/home
Poggio del Sole Resort is located in an ancient 19th century country house. It has 68 rooms, with classic furniture and equipped with all comforts. It provides many services such as an outdoor pool and a modern wellness center.
Accessibility:
Accessible rooms: 4 rooms wide enough for a wheelchair (even the bathroom). The bathroom has an easily accessible functioning alarm, shower with no gaps and a movable chair.
Common areas: there are many seats in the hall and no obstacles. There is a stone ramp (without handrails) in the hotel yard.
Lift: 2 lifts with a smooth floor at the arrival and buttons in relief and Braille; the lifts are well functioning and well-lighted.
Restaurant: high tables suitable to wheelchairs. The coffee bar counter can be reached by a person on a wheelchair.
Special menus: for people with celiac disorder.
Pool: easily accessible for disabled people. It has an accessible toilet and an easily accessible dressing room.
Parking: outdoor and covered, at a short distance.
Allergies: hypoallergenic linens are used.
DOWNLOAD THE ACCOMODATION'S FILE